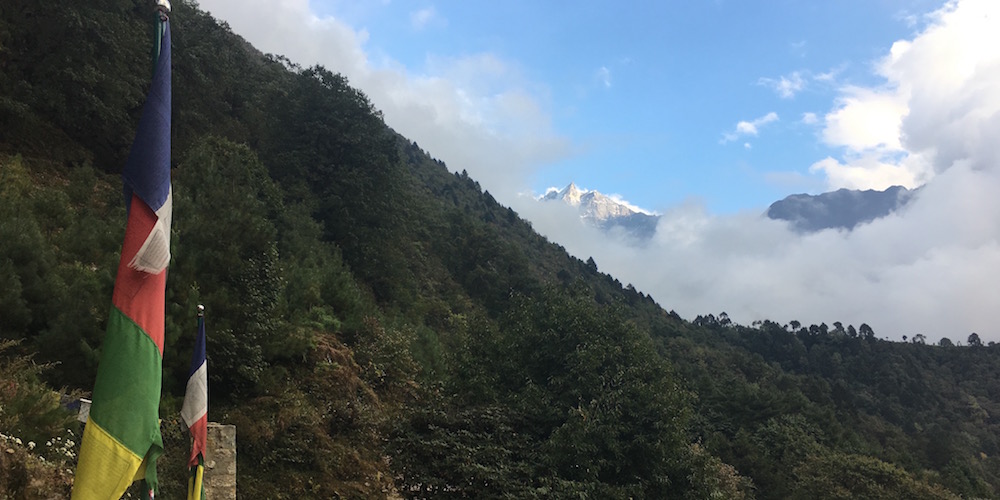 By Monika Paris
Posted October 29, 2016
Day 13: Last Day in Kathmandu
We were excited about flying back to Kathmandu. Flying out of Lukla is an adventure on its own. You don't really know when your plane shows up. All you know is that if the weather is cooperating, your plane will eventually show up.
When our plane finally showed up - after a 2.5 hours wait - we had to continue waiting at the airplane, because the pilot needed to have his tea and breakfast before he could return to Kathmandu.
The clear weather allowed us a final, spectacular view of the Himalayas from the plane.
We spent the day in Kathmandu buying some souvenirs and packing. We enjoyed a celebratory dinner in a authentic Nepalese restaurant with Nepalese folk dancing. We managed to avoid using taxis and instead explored Kathmandu on scooter which is wild!
In retrospect, the trek was perfect. It was inspiring. It gave us an opportunity to learn, to grow, to reflect, to introspect, and to find new limits. A ll this we can now take home and use as inspiration in our daily lives. We can honestly say that our maiden trip was a very successful KAIMONT journey.
Despite losing a day to a delayed plane at the beginning of the trek and adding a rest day in Namchee Bazar, we were able to accomplish most of the goals we had set. The "highest" highlights were Grokyo Ri, Chola Pass and Chhukung Ri.
Getting to know fellow trekkers from all over the world and sharing each others' stories is always profound. However, connecting with the Sherpa families in their homes was a very unique experience and we hope that his is only the beginning of a long lasting relationship.
We are planning journeys for the Spring season starting in April. If you are interested in joining us in our explorations of Nepal, let us know. We will be happy to talk with you and tailor an itinerary that meets your exact needs and expectation! Our goal is to create a journey for you so that that you can explore and experience this part of the world in a way that will have a profoundly poitive impact on you.
Namaste!