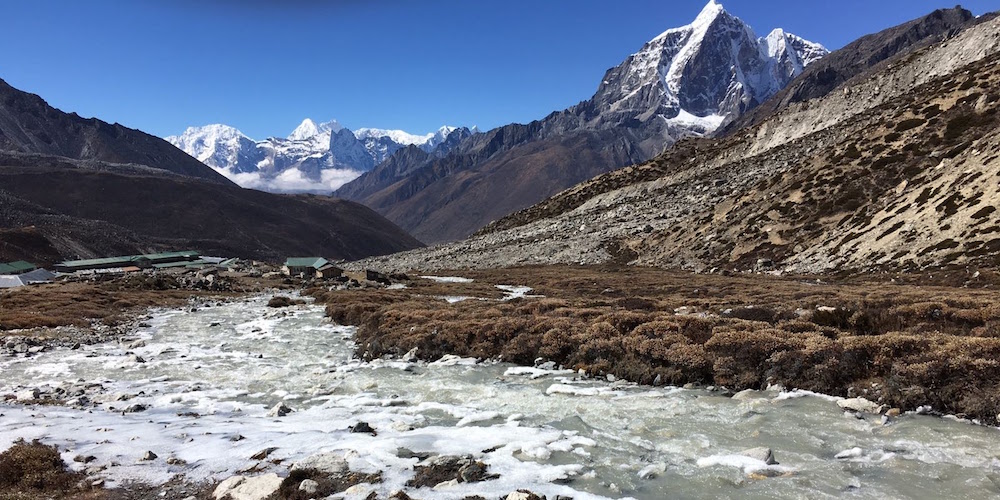 By Monika Paris
Posted October 26, 2016
Day 10: Climbing Chuhung Ri from Dingboche
We knew we were in for a long day of hiking with reaching our highest peak yet at 5550 meters. We left Dingboche at around 8:00 am in the morning. The weather continued to be on our side which made the initial hike up to the trail head of Chukhung Ri very pleasant.
This particular trail also leads to Island Peak base camp and it seemed crowded that morning. Many trekkers were headed in that direction. We were clearly on the "beaten trek" - it did not feel as peaceful as it had been during the past days.
We followed a gradual hike up through mossy, rocky terrain to finally reach the trail head after 3 miles. Before we started the climb, we had some hot milk tea and some biscuits to keep us going. The climb seemed very steep with the occasional switchback making the approach a bit less taxing on the legs.
Despite the sun, the wind was blustery and cold and as we were reaching the summit clouds were rolling in. Still we had fun on top, took some great pictures and took a video of Pemba doing some push-ups at 5546 meter. Coming down was hard, but we made it back to Dingboche just before dark.