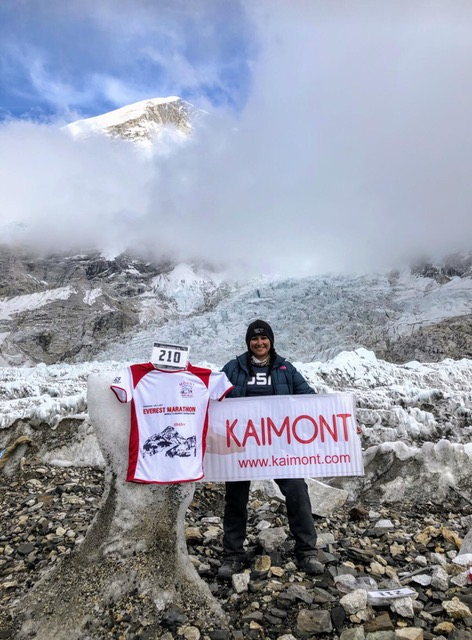 From the moment my feet hit the ground in Kathmandu, already laughing with Monika Paris who I just met only hours before... this trip became something more than just a bucket list trip. I've been home for 3 weeks, and still struggle to articulate the experience. It was more than I could have hoped for. Long after the jet lag wore off and my stories had been told, that feeling still persists.
We began by visiting the Kailash Home of the Himalayan Children's Foundation. To see such happiness in those kids; showing us their playroom, hearing them sing downstairs, and eating together. You definitely got the sense that the people in this home were in fact... family. I was humbled to see so much love and gratitude.
From there, we started the trek to Everest Base Camp. As we gradually trekked higher each day, I was very aware that we were leaving the realm I'd always known and headed into one where I was entirely at the mercy of the elements. You quickly realize how small and fragile you are. At 16,200 ft, surrounded by ancient giants, my body began to fight against my will.
After the training and unforeseen obstacles, it was a huge relief to finally reach Everest Base Camp. A community huddled together, at 17,600 ft, next to the largest mountain in the world. They've all been through the same physical and mental battles to get there, and there is an innate comradery that comes with that. I was thankful to be given the opportunity to sleep overnight facing the Khumbu Glacier; to hear the ice break off the mountains and crash around me, see a full moon shine so bright above, revealing to me I'm at the doorstep of her majesty Mt. Everest.
Then came the Everest Half Marathon. Running at that altitude and on such treacherous terrain was very daunting. You stop wondering about what time you'll finish with, and start focusing on just finishing. That race became the most emotional and memorable moment of my life. At mile 7 I rolled my ankle and fell, my shin directly landing on a jagged rock. The emotion of the moment hit me harder than the ground. All this way, all that work, and I wasn't sure if I could reach the finish line. If it had not been for the support of my teammates, and Sherpa Pemba, at that moment I may not have. But they helped me back on my feet and ran alongside me, giving me words of encouragement and pushing me on when the pain was unbearable. Bruised and bleeding, I somehow finished the 13.1 mile race. Approaching the finish line, and seeing everyone cheering was the most overwhelming thing I have ever experienced. Your words of encouragement Adrianne Vaughan Doherty and emotional support were so uplifting. It was an ultimate triumph of my mind over my body, and a humble reminder of how important good teammates are. In fact, in that moment they were like family. I could not be more honored to have had this adventure with Team Kaimont. I left a piece of my heart on that mountain. Thank you to everyone who made this adventure epic. My quintessence.
To the 2 who make the Kaimont experience possible:
Monika Paris - You showed amazing courage when every element was out of our control. I saw you live in moments of pure appreciation, no matter the circumstance. Your vision to create awareness of the educational needs in Nepal, and take people on a transformational journey at the same time... is beautiful.
Sherpa Pemba - It doesn't take long to see your caring heart. Your love for the foundation, the mountains, your family, and your culture... is beautiful. Your humor and words of encouragement were always exactly what I needed to carry on.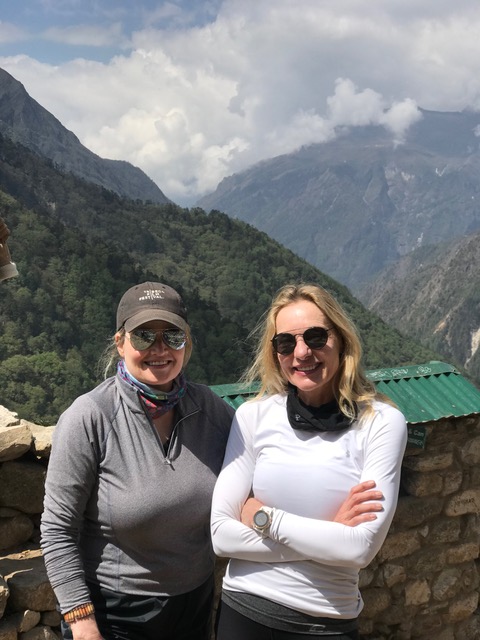 I'd heard that the Everest Marathon held each year on May 29th in the epic Himalayan Mountain Regions of Nepal was the most inspiring marathon on earth. Our journey began as planned to go to Nepal with the Kaimont.com team in order to trek the highest mountain region and to run the highest half marathon in the world. The marathon (everestmarathon.com) commemorates the first successful climb in 1953 of Mt. Everest by Sir Edmund Hillary of Britain and Tenzing Norgay, the most heralded Sherpa of all time in Nepal. The idea of the marathon is to keep lifting people up to the challenge and bringing them completely out of their comfort zone.
The race consists of three races, the Ultra Extreme (60 km), the Marathon (42km) and the Half (21 km) all of which follow and crisscross the Khumbu valley trails of the Himalayan valley and the trekking path in Sagamartha Park from Everest Base Camp to the finish line at the famous Sherpa village of Namche Bazaar. Marathoners, teams, individuals and adventurists come from all over the world to witness the famous race and to show their support for these renowned athletes. Over 250 runners entered the race this year from all over the world. Our team, founded by Monika Paris of Kaimont, Jene Perez, a medic from Dallas Texas and myself, was a great mix. Three American women with a good balance of drive, fitness and love of new adventures.
The quiet beauty of Nepal is everywhere in the Himalayas and the people, are lovely, friendly and warm hearted and took care of our every need while we enjoyed the daily treks and arrived at each tea house along the trail, ready for hot lemon tea, warm food and worldly company and a good night's sleep. Its rugged digs no doubt here, but the places with hot showers were savored and remembered! The Rhododendron forests, milk river, Buddhist monasteries and endless mountains and swinging bridges prompt one to pause and deeply reflect on nature's wonders and our own shared humanity. Indeed, some of the people we met along the journey were great – including Conrad Anchor of the famed movie, Meru, who was there climbing Lhotse East this year and initiating a Sherpa mountaineering school to help Sherpas to become certified. We met many crews who had summitted Everest from Japan, South Korea, Nepal, Britain and the USA were also celebrating with Sherpa parties at the tea houses high atop the range. Environmentalist and Professor Alton Byers was there documenting the climate change in the glaciers of the Khumbu valley as he does each year with his partner, Elizabeth who is studying flora, trees and new vegetation. One had a serious respect for them as we can attest now that the trails to Everest Base Camp have changed dramatically due to melting of the glaciers and climate change.
We trekked up the Everest Base Camp trail during the first two weeks, with fellow world trekkers, trying to acclimatize slowly and steadily and surveying the terrain on the way up (and down) in the first fifteen days of the trekking journey. Our team trained and prepared on routes from Namche Bazaar to the Edmund Hillary School and along the trail almost daily to prepare for the race at the end of May. High altitude is a serious matter, and many athletes who are perfectly fit and ready to run the marathons do drop out due to altitude sickness or non-acclimatization each year. My trek to the finish line to cheer on our team from Everest Base Camp (EBC) was filled with some of those athletes who were descending to be well.
It was a delight to meet and share the finish line tent New Zealand's, Jeyden Klenac and sisters, Emily and Anna Roygruk who led the New Zealand team to first place and third place in the half marathon overall. Our own teammate Jene Delyse Perez, from Dallas, USA was amazing and after falling at mile 7 at Tengboche and tearing a ligament as well as gashing up her leg, she never quit. She kept going and finished the race like a champion, placing fourth overall! All the competitors this year were an amazing line up of ultra-marathoners and marathoners ready to reach the top of the world.
Our trip also had a very important humanitarian component for us as we were also there to support the Himalayan Children's Foundation (HCF) based in Kathmandu thru this race by supporting their five athletes who ran. In Kathmandu, we visited the Himalayan Children's Foundation in Nepal, a children's home founded to support and keep children in school in Nepal. Tony Lobsang Chodear, the Managing Director found his calling in life as he introduced us warmly— "helping and loving children in Nepal is where I belong," he told us. One realizes immediately how driven and thankful five young adults were to be sponsored in this year's Everest half marathon race and how they relished in the competition but also in making new friends with all who visit their home in Kathmandu. The home consists of 100 children, boys and girls who live there yearly while attending school. Many remain there until adulthood and until they graduate from high school and locate jobs and mentors who can help them to live independently or continue studies at the University. Girls' are marginalized in Nepal, often forced into early child marriages in the villages, and experience widespread discrimination. Life is hard in Nepal; poverty and the caste system are a glaring reality every day. A chance to attend the Kailash home, supported by this foundation provides new opportunities and opens possibilities in life for them.
Running in the Himalayas is great and just trekking among the world's highest glaciers and mountains makes one realize how insignificant we are among these giants. But challenging ourselves to conquer them is what Sir Edmund Hillary and Tenzing Norgay wanted to share with all of us. Consider the epic journey to the Himalayas in Nepal and the experience of the world's highest marathons which will leave you wanting to go back – it's the trip of a lifetime. A dream comes true.